Spring Swing – Get Your Fine Jewelry Out of that Stuffy Box and Into the Spring Air!
Nothing says spring quite as brightly or as optimistically as colorful jewelry. Big pops of color can dress up a sundress or go straight to an evening function. And why not? If you're like me, each of your jewelry pieces has a special story – of the day you bought it, the first event you wore it to, or the person who gave it to you. Spring is the perfect time to take a fresh look at your treasures….so you can start the next beautiful spring morning with the additional promise of selecting some of your favorite color gems to wear?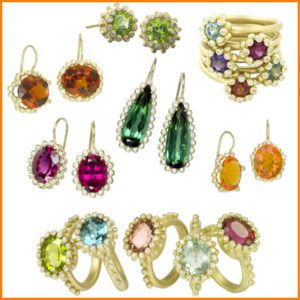 Color gemstone jewelry has had an exciting designer revival these past five years. Suzy Landa's Confection Collection is a terrific demonstration of the many faces of a single pair of earrings, from playful to romantic to downright serious!

And don't forget that diamonds can also be filled with luscious color! Anne Sportun's latest collections are rich with natural colored diamonds that are as fresh as a spring morning.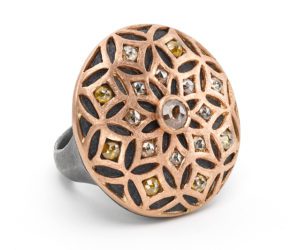 Another designer who brings out brilliant color in both his metals and his diamonds is Alishan. Can't you see how this ring could go from play date to date night?
So put away those winter grays  and revive your jewelry box with lots of wonderful spring color! If that box of yours needs some refreshing….you should turn on to HSN May 14th/15th, because starting at midnight 'til 9pm I will be lending my expertise on several shows with THE COLORS OF DIAMONDS!