Yesterday (11/30/2020)  the auction house, Cristie's sponsored a panel discussion to examine the position of Fine/High Jewelry and how such jewelry is often overlooked as works of ART.  Experts referenced some of the pieces that were part of Christie's Magnificent Jewels Live Auction conducted later that day in Geneva. (Note: with the live audie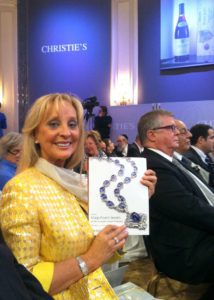 nce canceled  due to tougher social restrictions announced just one day prior, amidst COVID's European resurge) If you want to know about all of the details of the panel discussion, Luxury Daily published an article today/December 1st.
I enjoyed the discussion (and auction online), because I have been honored to touch, hold and wear (yes, wear) fine jewels that are not only works of art, but absolute masterpieces!  For example: I attended the live Christie's  Magnificent Jewels Auction in Geneva (2013) when the historical Archduke Joseph Diamond sold for a record breaking $23.5 million….   
 ….and I previously wore that magnificent diamond when I met President Bill Clinton in Belgium, at a VIP reception at the Antwerp World Diamond Center.
Fine Jewelry is More Than an Accessory
While I believe Fine Jewelry is more than an accessory, I also believe it is more significant than a fine work of art!  When the Archduke Joseph Diamond touched my skin, I felt differently. It was not the price, because as many people in the jewelry industry and private events have seen, I often have been adorned with millions of dollars worth of jewels.  Nor do I think my physical response was related to the diamond's  incomparable beauty…despite the mesmerzing affect that I experienced just looking at the diamond.  Perhaps it was the fact that the Diamond was historical; it was the property of the Archduke Joseph August of Austria, Palatine of Hungargy (1872-1962), a member of the House of Habsburg. (Note: Did I ever mention that I am 100% Hungarian? LOL)  IMAGINE the royalty that touched and wore that Diamond throughout history….before it touched my décolleté! Imagine the stories surrounding that diamond!   Yet, Consider Alfredo Molina, CEO of Black Starr & Frost jewelers, (pictured above with me in the first picture of this blog) who owned/auctioned the Diamond and explained:
   "I was blessed to be the Archduke's guardian and champion for the past 13 years, and indeed
 …it has become part of my very identity."
Mr. Molina, get's closest to what I think.  While wearing that masterpiece was a significant and unparalleled experience….I often feel differently when fine jewels/jewelry touch my skin.  Just like that magnificent jewel became part of Alfredo Molina's identity, fine jewelry becomes part of me (when it adorns me).  I don't feel a fine crafted piece of jewelry on my skin; I just feel differently ….and I move differently, too. 
Once a piece of fine jewelry adorns me…it becomes part of me. 
It's a Physical, Mental & Emotional Connection 
Every fine jewel/jewelry has Meaning (whether it be about its mysterious history or the connection to the person that gave it to me, or the meaning of the occasion /moment that I wore it for the first time). When the fine jewel or jewerly is put on….I  am internally affected by the mystery that a real and natural jewel holds; along with the knowledge (aka mental connection) to the meaning of the piece. Finally, how can the Mystery of Physical Chemistry and the Meaning of a piece not combine to create an emotional connection (….for me any emotional connection is magical when it happens) !
A Gift with Mystery, Meaning & Magic
Perhaps you know that the strongest bond two people can have …only occurs when they are happily connected on three dimensions (the Physical, Mental and Emotional) . True love always fades (sometimes painfully slow, sometimes traumatically fast) when one of the three dimensions weakens or is damaged/betrayed.  (Note: the love doesn't die, but it definately fades with only lingering memories of what was.)  This holiday, consider giving a gift that is worthy of your love…NOT an ACCESSORY, NOR A WORK OF ART.  Consider a  fine jewelry piece that carries everything that a healthy loving couple has:  the ongoing Mystery (…of physical chemistry) , the interesting Meaning (…associated with each other and the occasion/gift)  and the Joyful Magic (of the emotional connection). My choice is always a real Diamond…but any natural gemstone formed over billions of  years, beneath the earth, under extreme heat and pressure will be worthy, 🙂     LOL – ONLY A DIAMOND IS FOREVER 
Consider giving Mr. Alfredo Molina a call …. & start by visiting one of his two websites: