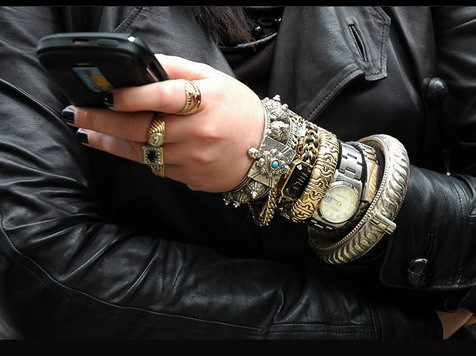 The more I seek the right way to style and accessorize for each emerging season, the more I am convinced there are no rules (other than taste). For example, for years we were repeatedly  told to never mix metals – particularly silver and gold. While tri-color gold was all the rage for a very brief bit, silver and gold together—never! Well, take a breath, because both street style and red-carpet stylists have cast the "do not mix metal rule" aside. Layering bracelets in silver and gold is as common as wearing a gold ring next to a platinum ring. There is also lots of designing and experimenting with fine jewels set in all types of alternative materials.
This does not mean that anything goes….at least not if you are a fashionista with taste! "Why"…you ask… as street style is now as important as the style of designers? Well, the key word is "taste".  The saying "there is no accounting for taste" is wrong! Our tastes and sense of style are the direct result of the diversity of our experiences and the depth of our exposure ….to great design, architecture and the arts, as well as fashion.   I also like to believe that every rule was created for a reason.  In other words, I think fashion rules emerged (from the savy with "taste")  to save the masses from unattractive, garish ensembles.  So, it's a healthy generalization, but I believe that a few fashion guidelines (if not rules) can protect the less than fashion-savvy…
There is no room (in my world) for  "anything goes"
I do love a comfortable and stylish look that seems to have been effortlessly thrown together. The key word in that previous sentence is "seems". The same way creating a beautifully eclectic styled living room is more difficult than creating a traditional living room (with all traditional rules to follow)….mixing metals and various jewelry looks together requires a cohesive aesthetic point of view (i.e. taste…refer to previous paragraph  for my explanation about how taste develops).
So, I offer here some guidelines to help mix metals…no rules, just a path blazed by those whose lives are devoted to curating styles. Like the devil who wore Prada, those women who live, study and breathe fashion …can accelerate our own developing sense of style.
#1 Pay attention to Tones (of color) and Texture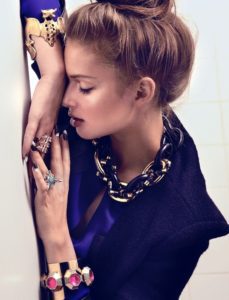 Your skin tone, your hair color and the color of the clothes you are wearing…are as important as the tone and texture of the jewelry to be chosen. Experiment, observe the look you created in a mirror…or better yet, use your phone to take a pic. Pictures don't lie! Look at the pic of the fashion-forward model, who is wearing yellow gold and silver, as well as black spinel, pink, green and rose gemstones…and diamonds. Look at her clothes—no texture or color is fighting another. Even her hair-tone seems to blend and compliment the metal tones. Let your personal color palette lead the way to a new look.
#2 Go Treasure Hunting 
Many designers are creating pieces containing more than one metal. Even haute joaillerie designers are offering fantastic creations that are a mix of metals and gemstones. You may even be lucky enough to find a gorgeous piece containing three or four metals.
#3 Be careful with your wallet
As street fashion defines trends as much as runway fashion, women are not only creatively mixing metals, women are mixing fashion jewelry with fine jewelry…which was another no-no of the past.  Mixing metals and jewelry is fun and we should all explore our creativity when defining our style. My only caution has to do with your wallet (not your style): some fashion jewelry is as costly as fine jewelry!  Fashion jewelry with designer names attached is often even more expensive than fine 14K gold or diamond Jewelry.  Remember, only fine jewelry will last forever, so give some thought to how much you invest in trendy fashion jewelry…and balance it with purchases that will tell your style-story forever .
Whether you prefer to mix your metals or not: BE BOLD & BE CREATIVE when expressing yourself with jewelry! Rules are made to be broken, but guidelines are helpful as we embark upon our style expeditions. Enjoy your explorations and happy treasure hunting! Photo Credits: www.glass-book.com