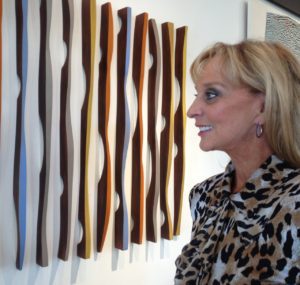 I love the Christmas Season, but it is so refreshing to find a city that does not rush Christmas décor before Thanksgiving (which is my favorite holiday, for sure) …and Scottsdale is THE  find, because they are still celebrating Fall in November!  Here, I am Falling for the Arts at The Calvin Charles Gallery. This gallery is Scottsdale's premier contemporary art gallery and the most beautiful custom building in the Scottsdale Art District. When I crossed the gallery's threshold, I was immediately captivated by the PASCAL exhibit.  The artist, Pascal Pierme  is a sculptor who works with precious woods. The way he describes working with the natural organic woods…is reminiscent of my personal conversations with Master Diamond Cutter, Sir Gabriel S. Tolkowsky. "Gabi", as he is known to his closest friends, cut many of the world's most famous diamonds and I was privileged to accompany him on his US tours for two consecutive years.  I learned that organic treasures (e.g.  natural diamonds and precious woods) participate to help define what they will become in the hands of a talented and skilled artist.
Pierme: "Sometimes you have to fight with it….. allowing the natural medium to take some initiative."
Tolkowsky: "A diamond usually suggests two or three shapes …I was looking at the diamond in the day, and the diamond was looking at me in the night."
Looking at the Colors Pierme created with the Natural Wood, I can't  help but wonder…WHAT'S YOUR COLOR? I was wearing Color Diamond Hoop Earrings that are unusual for Diamond Hoop Earrings, because they have a slight artistic curve. The Diamond earrings are available from
HSN
  in Green, Blue, Red and Champagne. …. the same colors of Pierre's wood only with the optical properties (Sparkle) of Genuine Diamonds.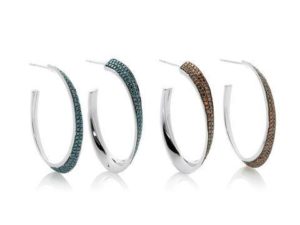 Espresso & Chocolate Break
Eventually, it was time for a break with an espresso and an authentic Belgium chocolate truffle  at
Chocolate van Brugge
. I wanted a bit of a respite (ok, it was the caffeine I wanted) before Main Street filled with art lovers and artists; the Scottsdale ArtWalk commences at sunset every Thursday in November. So,  I slipped off my St.John Leopard Duster to unveil my Blue and White Diamond Cross…which is also a work of art.  Jewelry with meaning, like this artistic Diamond Cross,  moves me
physically
(as soon as it touches my skin),
mentally
(knowing it is born from the earth),
emotionall
y (I
feel
differently when I wear it) and
spiritually
(faith is a gift, I think).  This is soon to be available at HSN in the category
COLORS OF DIAMONDS.
… in time for your Christmas Shopping.  I plan on
featuring it
on
December 4th
, when I appear as the HSN Guest Host and Diamond Expert.