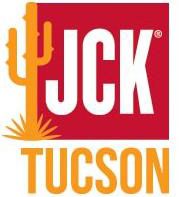 Each year I am  excited to go to TUCSON in February! Dozens of GEM SHOWS and  hundreds and hundreds of exhibits where thousands of jewelry lovers, rock hounds and industry friends come together here….unlike any other jewelry event in the world.
JCK TUCSON
This year is even more exciting. I will be the Opening Keynote Speaker at JCK Tucson on Monday, February 3, 2014  bright and early at 8:15 am …just in time for the Ribbon Cutting Ceremony at 9:15 am.   If you are in the industry, I hope you join me and  here's a link for you to register
http://tucson.jckonline.com/Show-Info/About-the-Show/
CENTURION PHOENIX  
Later,  if you are invited to attend or exhibit at the Centurion Jewelry Show in Phoenix…  I will catch-up with  you there. Of course, you wouldn't want to miss remarks by BILL CLINTON there Tuesday evening, February 4th.  
http://news.centurionjewelry.com/articles/view/centurion-2014-welcomes-bill-clinton-as-keynote-speaker
CALLING ALL JEWELRY LOVERS & ROCK HOUNDS
If you are not in the jewelry industry, but you love gems, love jewelry or you are Rock Hound,  I do  look forward to seeing you as I journey around Tucson!  This is one of my annual Sparkle hunts…and I  also make time to chat about gems and jewels! I am not shy and  I'm always eager to make new friends who love jewels and jewelry…so don't be surprised if I start talking to you, stranger.  BTW:  The Tucson Gem & Mineral Show, also known as the "Main Show" is held at the Tucson Convention Center and it is worth the trip
http://www.tgms.org/tgms/
  This year is their 60th Anniversary….their Diamond Anniversary, which they will expand to celebrate their 60 YEARS OF DIAMONDS GEMS, SILVER & GOLD!  Here is a link to a video that explain the experience: 
http://www.youtube.com/watch?v=uSGUOUiSBLA