Rain or Shine, I am always excited to attend a jewelry preview (i.e. a sneak peak for industry insiders). So, with little notice (actually less than an hour ..so, NO Notice, LOL) I hopped over to a dedicated suite at the Mandarin Oriental Hotel. Not alone; with me is my industry friend, Benjamin Guttery (a self-proclaimed jewelry-nerd), who is an Insta-Blogger …full-time (lucky guy)! You need to check out his jewelry photography at "Third Coast Gems". As to the Sparkle at the Mandarin Oriental, the attending designers' jewelry will be available (shortly) in fines stores for your holiday shopping; but, I have some Sparkle to share with you NOW! So, BLOGGIN IN THE RAIN it is! Get ready for some great SPARKLE with my damp hat-hair, LOL!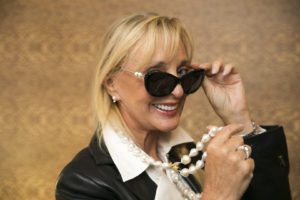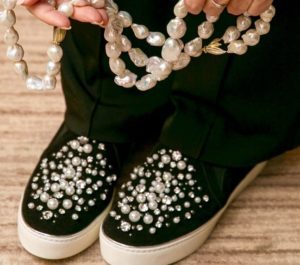 Pearls on my (Chanel) Sunglasses,
Pearls on my Toes (aka Stuart Weisman Sneakers),
I like wearing Pearls wherever I go…
VICTOR VELYAN …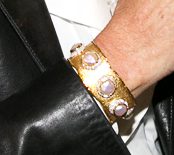 …is the innovative designer of the pearl jewelry I am touching, enjoying & wearing. Before he started designing his own collections, he earned 27 design awards …for other designers. Today, his innovative designs are available at Neiman Marcus Jewelry Salons and independent fine jewelers, which are listed on his website, victorvelyan.com. Regardless of which gemstones or combinations of gemstones he chooses, he always creatively uses metals to create pieces that are fashionable….and often edgy! Did you see his Pearl Cuff on my wrist?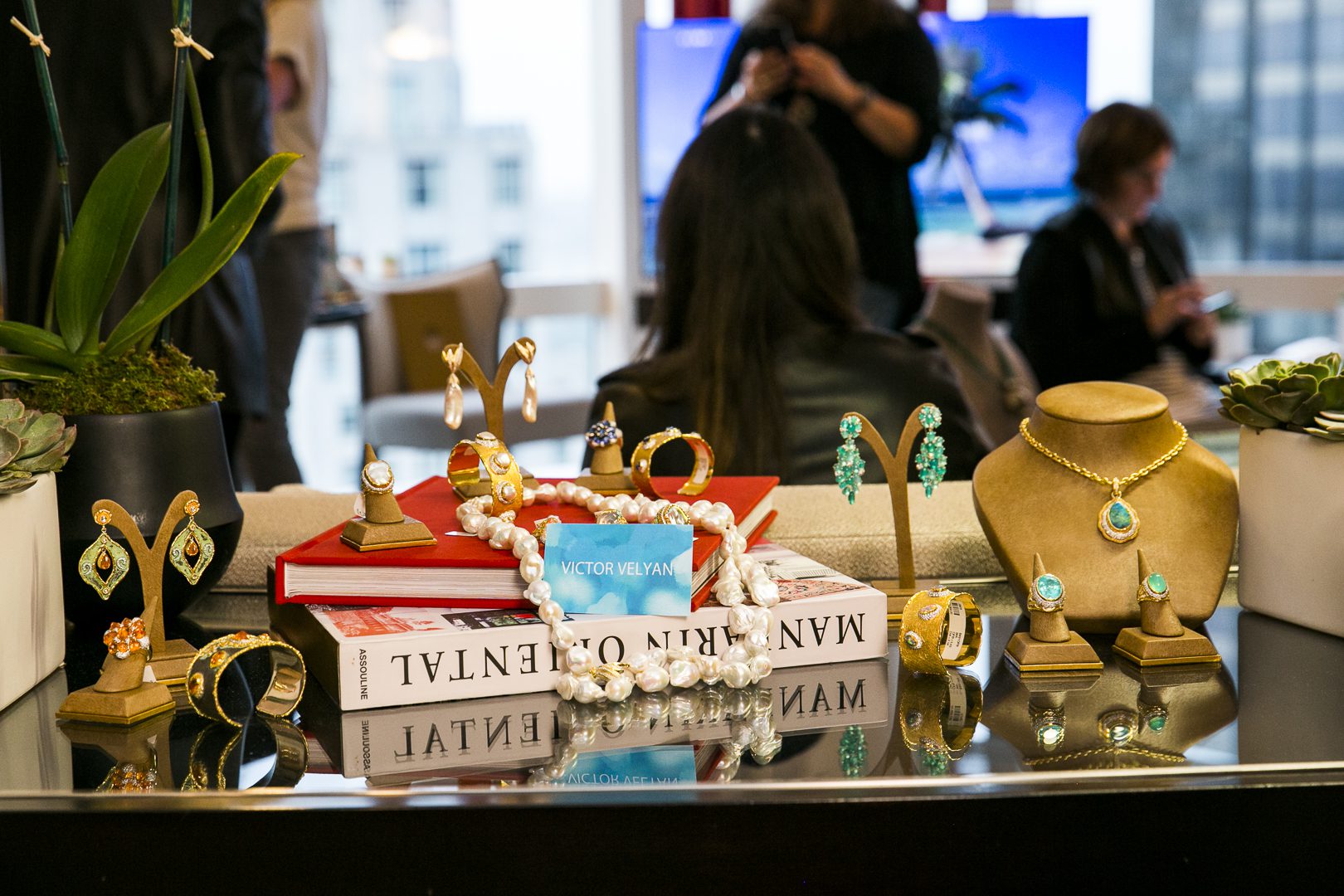 Buddha Mama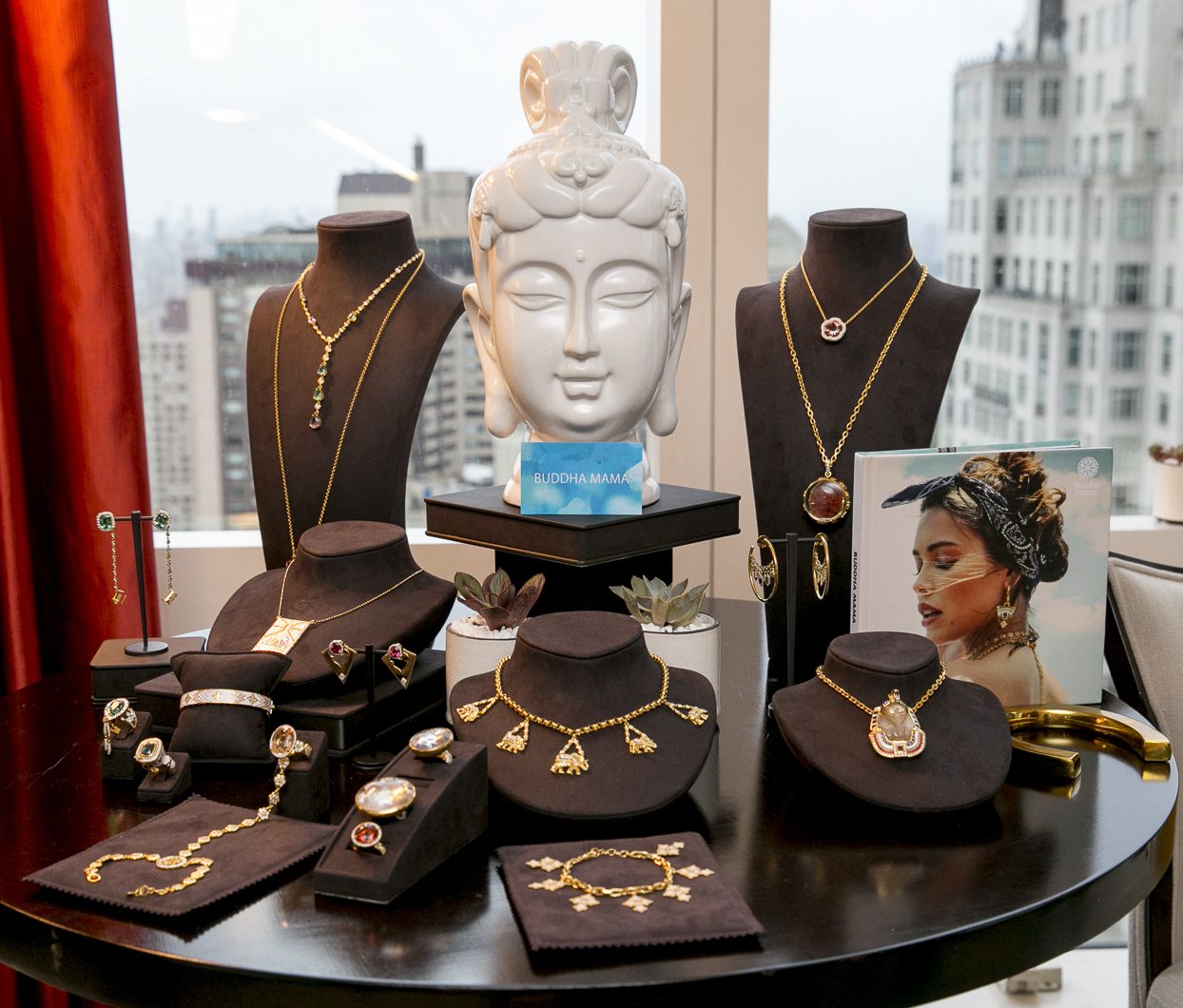 BUDDHA MAMA is jewelry inspired by Buddhism and Eastern Traditions. Designers, Nancy Badia and her daughter Dakota are both practicing Buddhists! Together they collaborate to build Buddha Mama into a unique jewelry line that is now available internationally …in boutique and independent jewelry stores. Here I am with Nancy with a pendant that Dakota designed, which celebrates CUBA, the birthplace of her Dad (which is also the birthplace of my love/late-husband).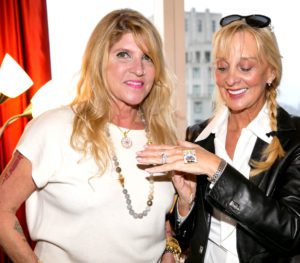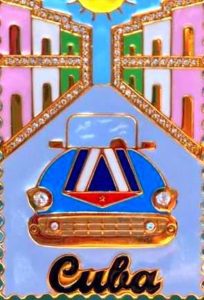 DELPHINE LEYMARIE Fine Jewelry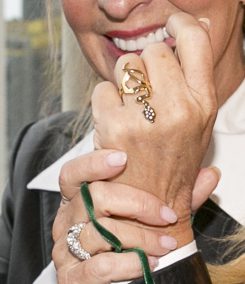 French born, Delphine is a New Yorker who left a career in corporate finance to nurture her creative soul. While attending jewelry making classes, she was especially fond of wax carving and she has not stopped hand-sculpting jewelry since. Delphine is personally warm and welcoming the instant you meet her and she says her aim is to: "…create sparkly sculptures that can adorn your body and elevate your soul". You simply must visit her website DelphineLeyMarie.com. Her unique jewelry designs are cast in RECYCLED 18k gold & oxidized silver.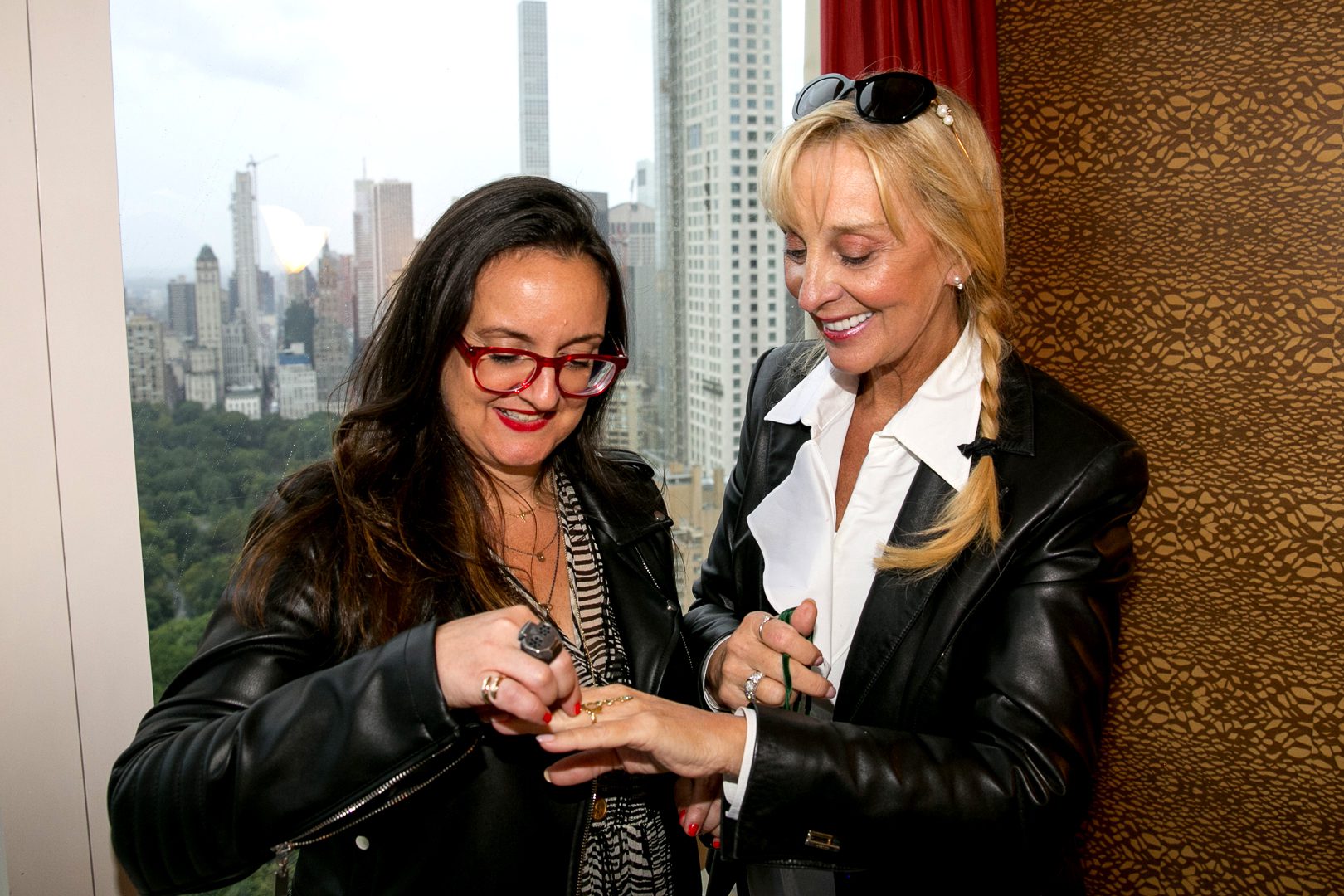 PAMELA HUIZENGA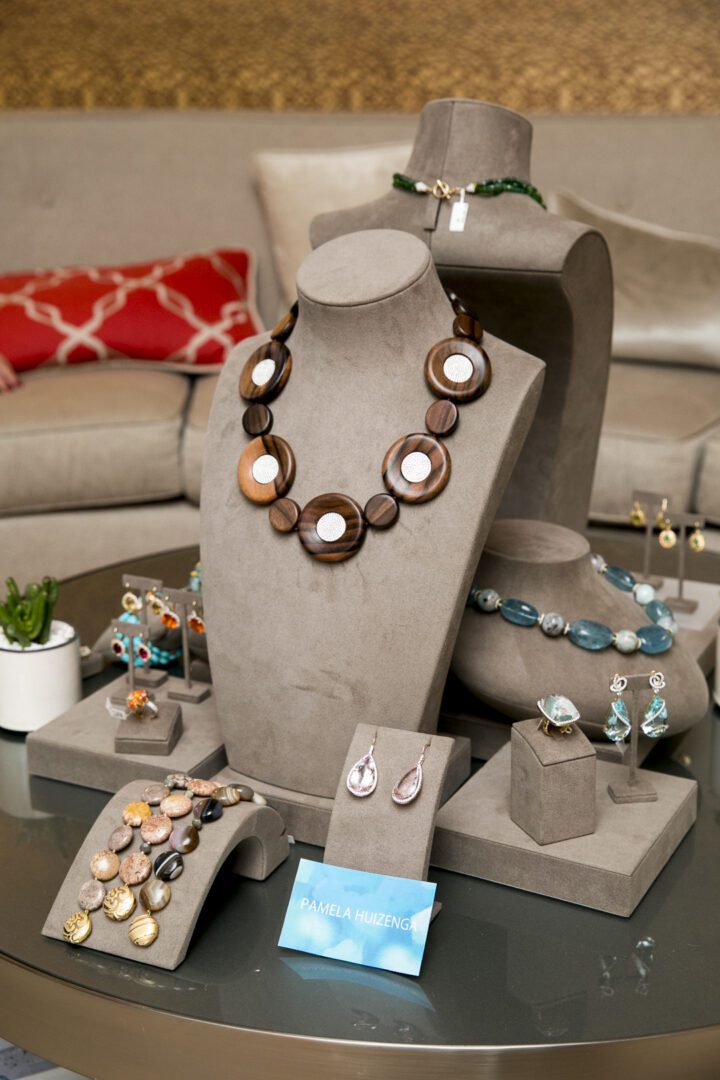 Opals, Spinels, Pariba Tourmaline, Morganite, Aquaprase (a new gemstone discovered only 2 years ago), and Fossils, as well as all kinds of antiquities are just some of natures gifts that Pamela incorporates into her jewelry designs. She is a real rock-hound, who just happens to also be a talented jewelry designer. Hmmm….Imagine visiting her studio! Her website (PamelaHuzienga.com) lists locations where you can explore her collections. She literally has designs and gemstones for every woman; like the Morganite earrings that have my name on them, LOL.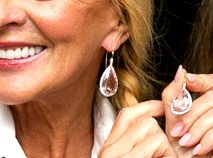 Thanks for the Invite Michelle Orman (aka Couture Jewelry Guru)!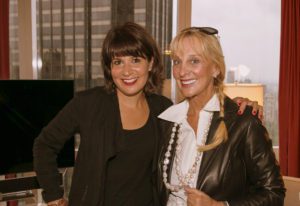 I love exploring new designers who transform nature's gifts into wearable art.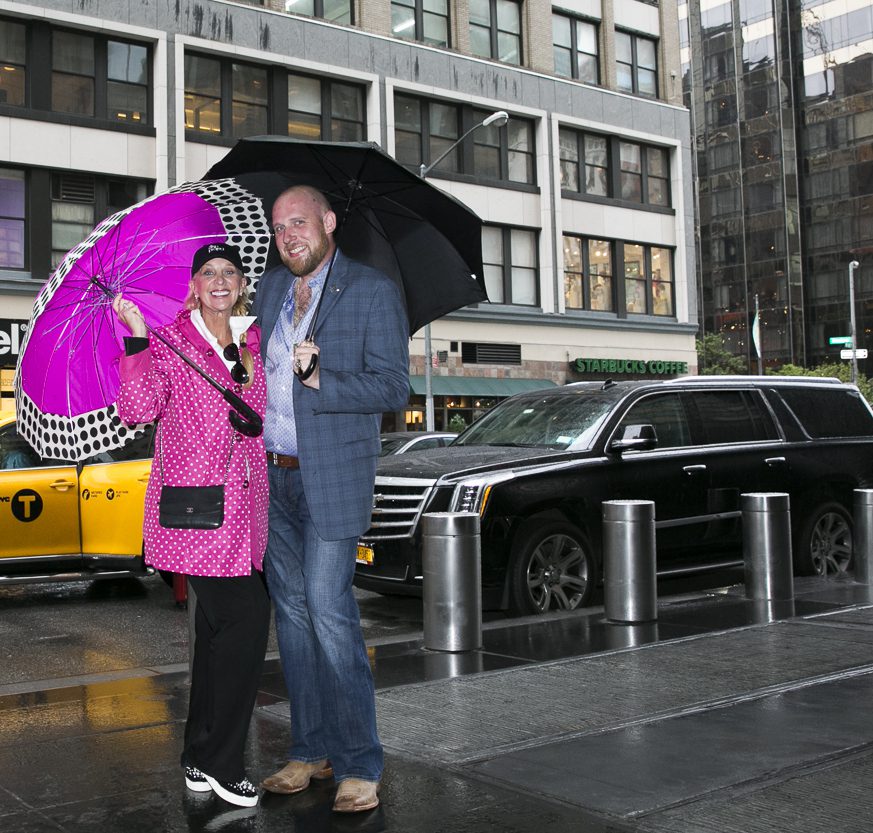 Neither I nor Benjamin let anything stop us from pursuing Sparkle!