Delicate finger sandwiches without crusts (Note: I LOVE Cucumber sandwiches), scones with clotted cream, sweet pastries with jam, little cakes and cookies…. they are all on the menu for an Afternoon Tea! This Afternoon Tea with Sparkle took place at the "English Rose Tea Garden" in Carefree, AZ. The Sparkle is composed of my beautiful Spring Collection in all the "Colors of Diamonds" available on HSN.com.
Did I mention that I love cucumber sandwiches almost as much as I love Diamonds?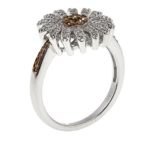 Reaching for a cucumber sandwich with the sweet sparkle on my finger, I can't help but smile. Rings Rule and the Floral Ring with Champagne Diamonds and Near Colorless White Diamonds…was a sparkling and sweet compliment to this afternoon indulgence. If you wear size 9 or smaller…you can still find one online. Just click on the ring or ring's caption.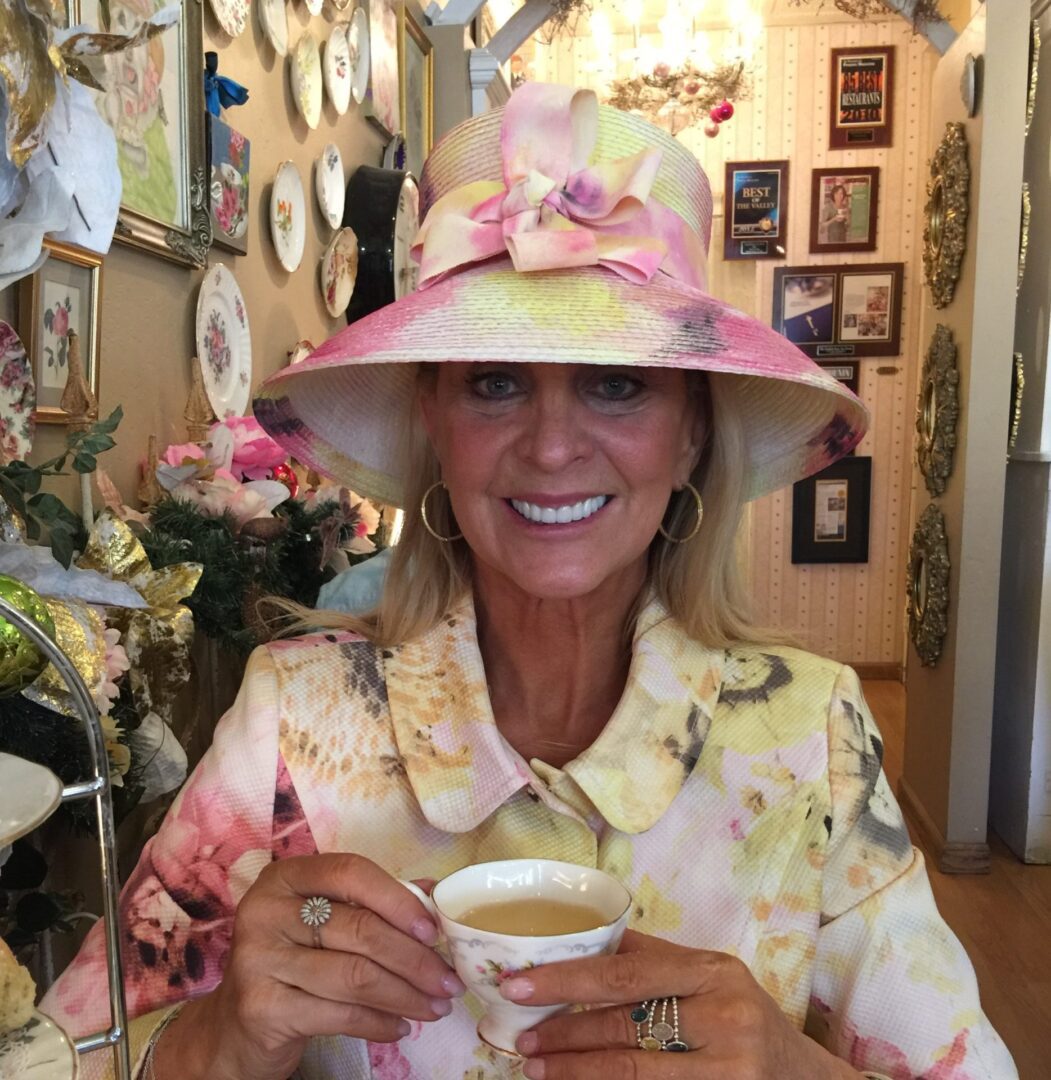 Sparkling Origins …
Afternoon Tea is an elegant mini-meal that originated in 19th Century Britain to curtail the hunger and pre-empt any lightheadedness amongst the ladies of high-society…. as they waited for dinner (usually around 8pm). "High Tea", traditionally was a bit larger and included meats. But, today, "Afternoon Tea" and "High Tea" are used interchangeably and lots of women (like me) don't need any excuse to indulge. If you need a reason…Afternoon Tea with Sparkle is a perfect way to celebrate Birthdays, Mothers' Days, Baby Showers, Bridal Party Celebrations or "Anytime-Afternoons" to catch-up with girlfriends and don a fancy hat!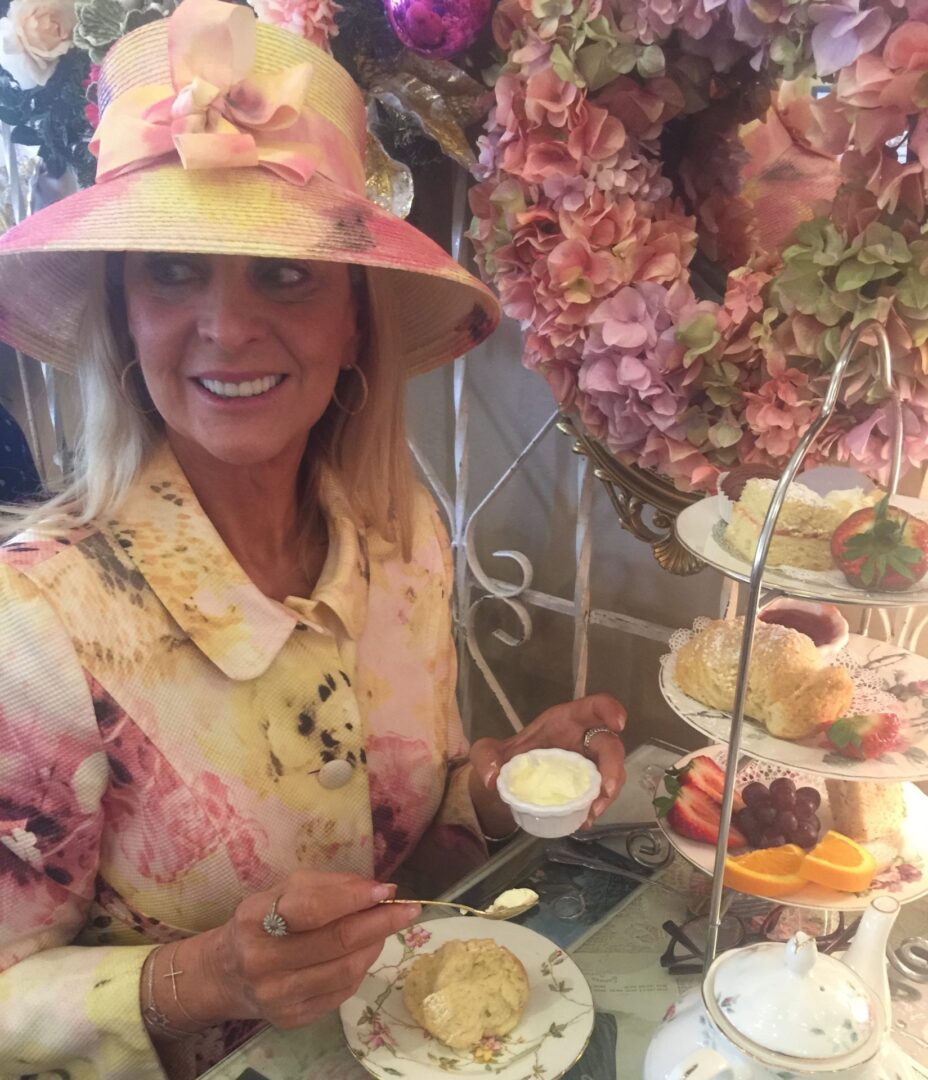 ABOUT THE HAT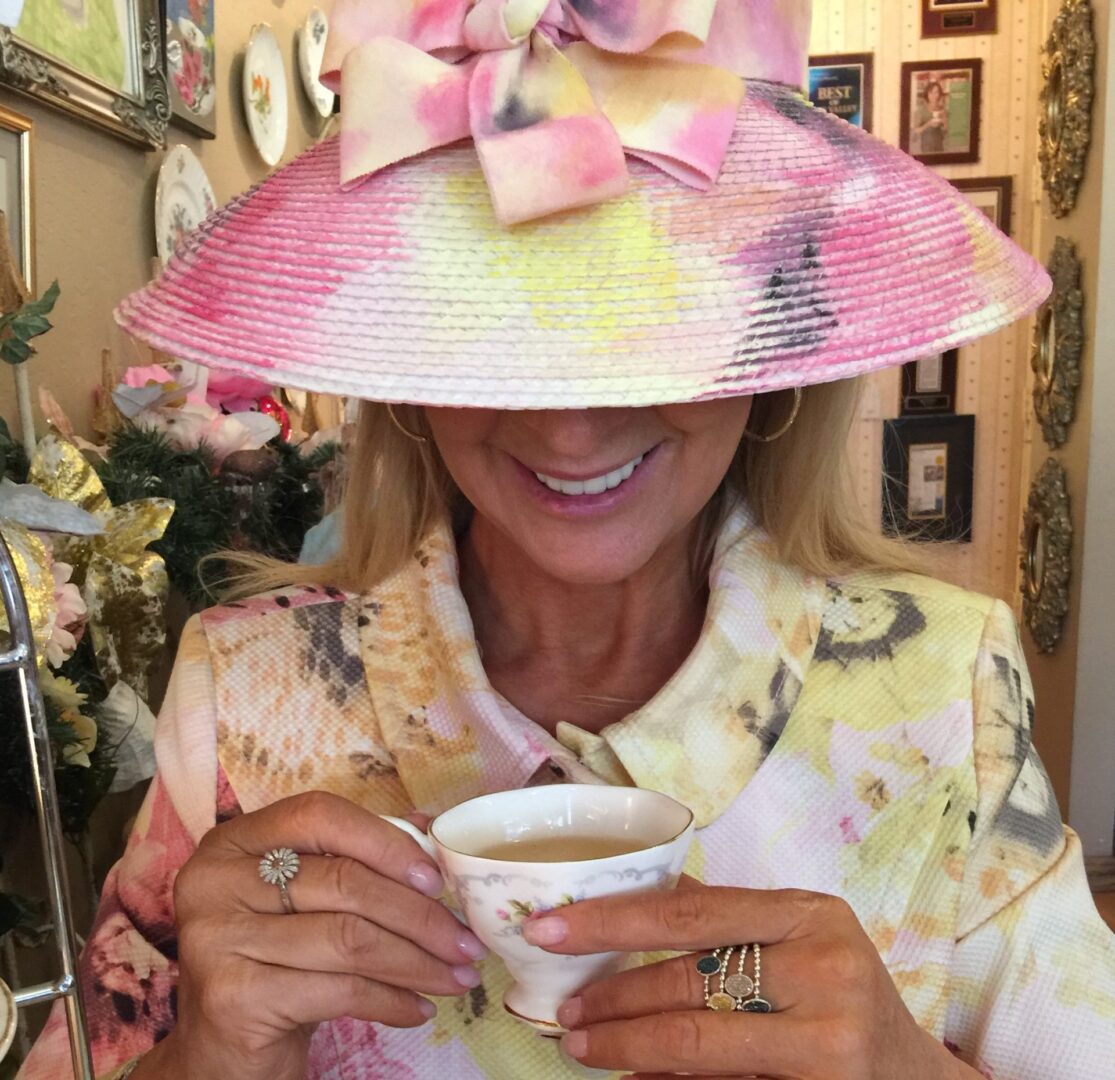 Suzanne Couture Millinery in NYC, is my go-to source for hats. Suzanne created all of my amazing couture hats for past celebrations at The Pebble Beach Concours D'Elegance, the Kentucky Derby, and Easter Sunday Parades. This time, Suzanne Couture Millinery created and hand-painted my hat to compliment my chosen floral Escada Jacket for Afternoon Tea. (Note: Its Springtime and Sale time at ESCADA.com ).
FEATURED SPARKLE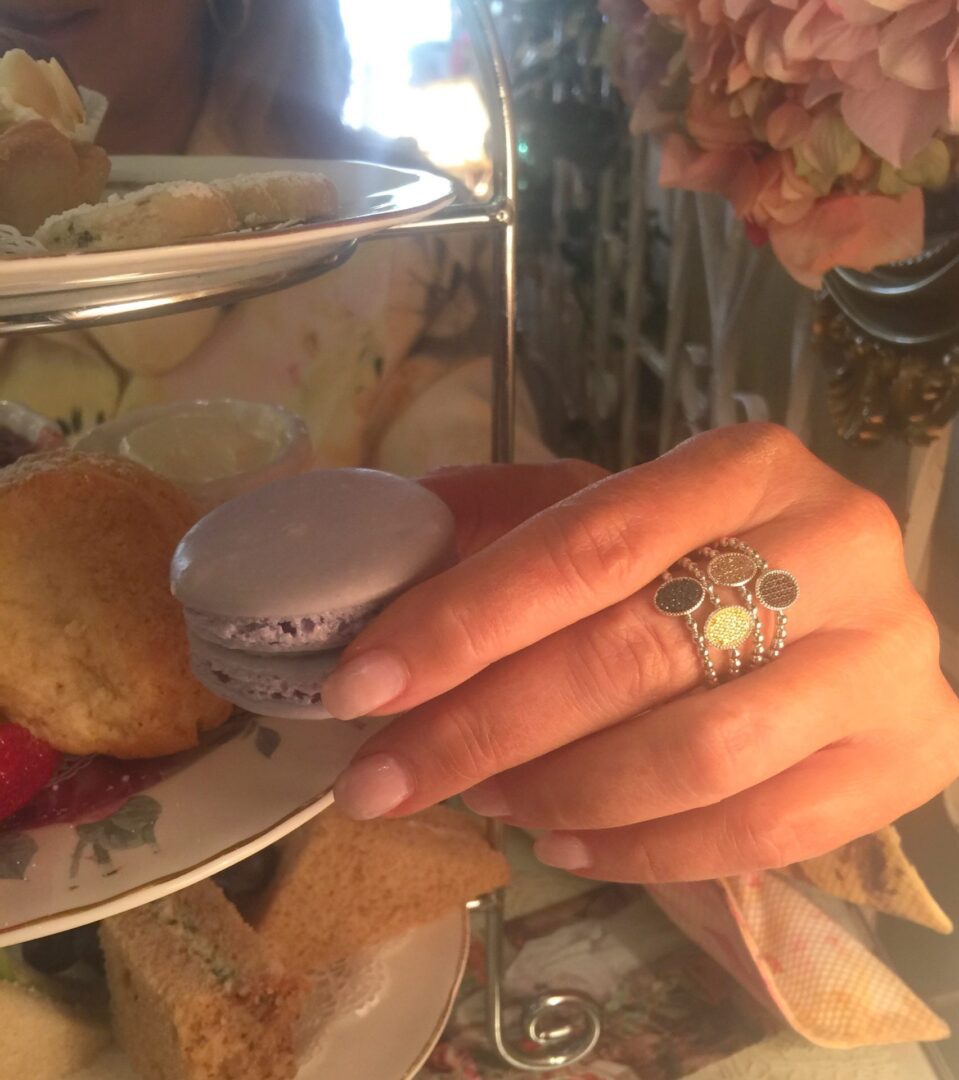 On my left hand I am wearing FOUR Diamond Stackable Rings…each one in one of the many Colors Of Diamonds. For my wrist, I chose delicate Near-Colorless Diamond Bracelets that compliment the delicate finger sandwiches and pastries. A Diamond Heart, a Diamond Cross and a Diamond Star…Ahh!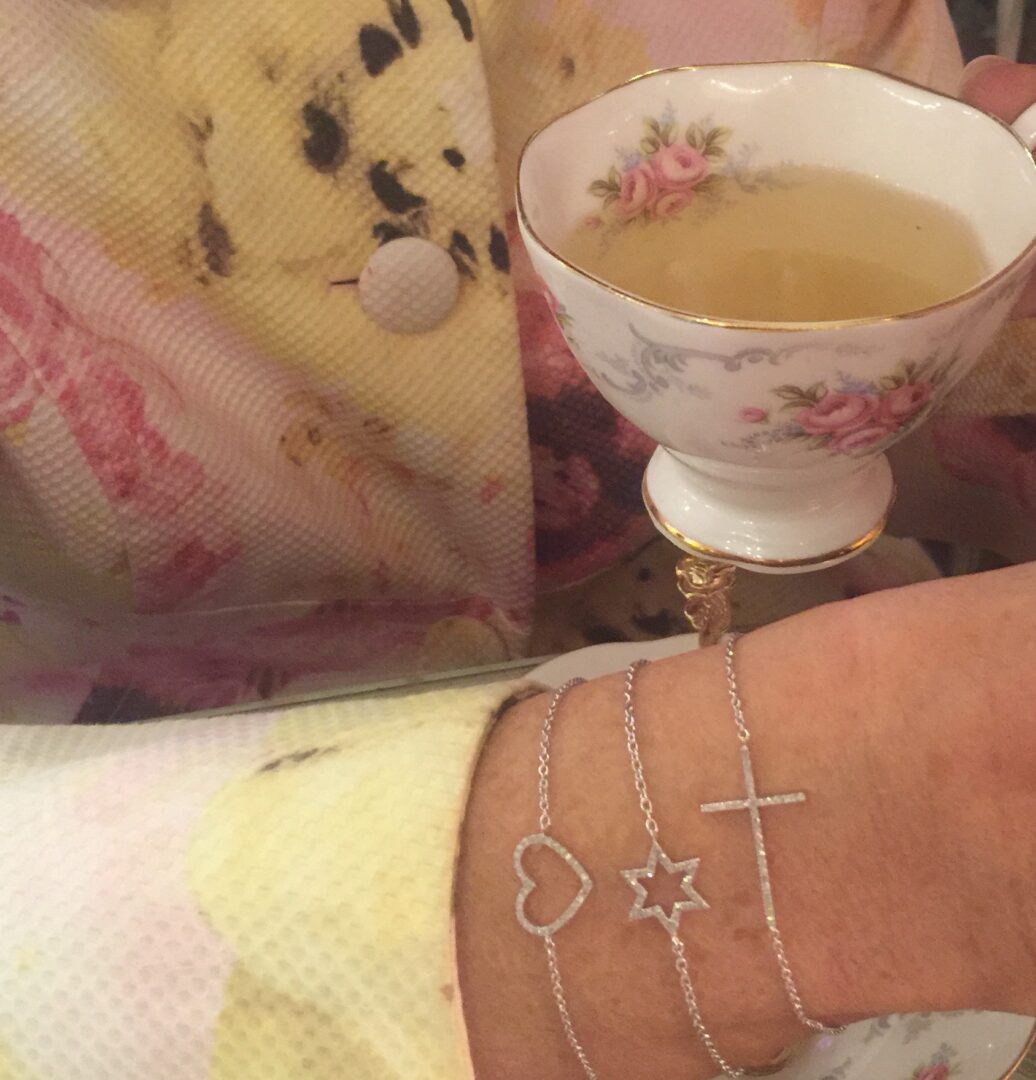 OH, SO FEMININE
Afternoon Teas, Couture Hats and Diamond Jewelry…what more is needed to get-in-touch with our soft Feminine side. As women, we juggle lots of life; we are Strong and just like Diamonds, we Sparkle under extreme pressure and heat. I often enjoy wearing Diamond Jewelry that celebrates our strength and empowerment, as well as wearing Diamond Jewelry that celebrates my love and relationships. BUT Diamond Jewelry that just celebrates our femininity (especially Diamond Jewelry that we purchase ourselves for ourselves) is (for me) the ULTIMATE FEMINIST ACT! Think about it, back when Afternoon Tea originated…a woman could not purchase a Diamond for herself; not even an influential woman of high-society.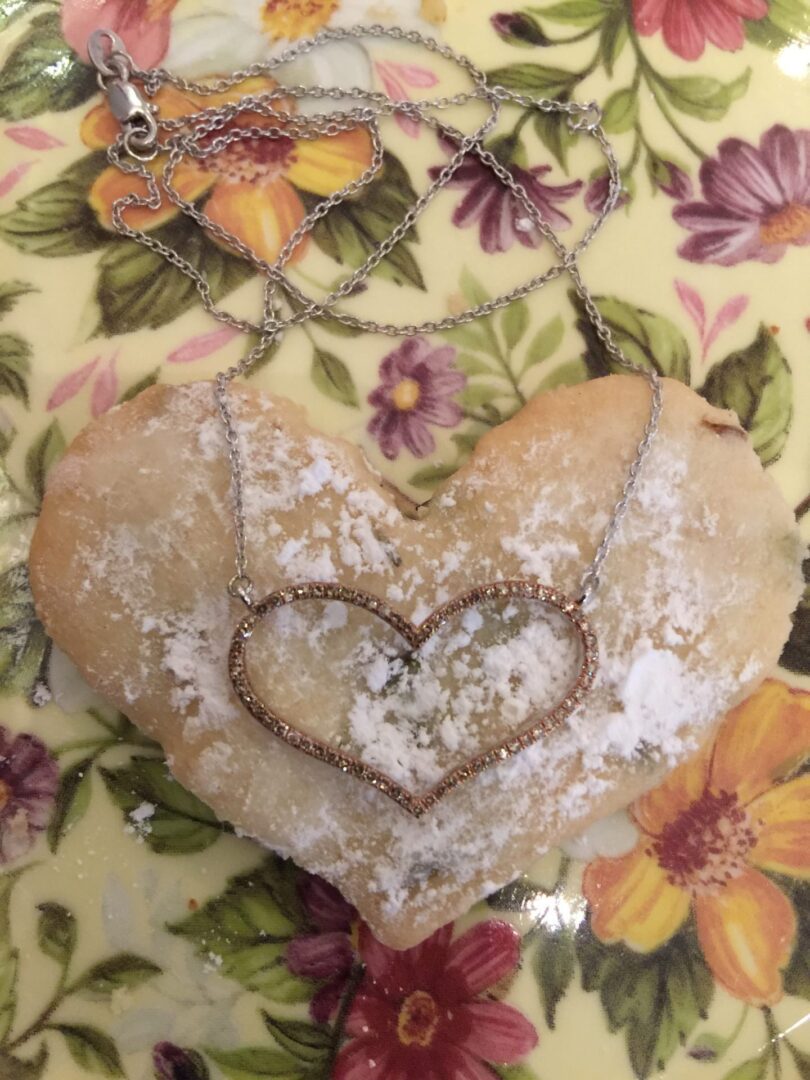 ANTICIPATING THE ROYAL WEDDING
Afternoon Tea is the perfect time to discuss Wedding Plans, LOL