More than a word, Sparkle is a Lifestyle!
For me, Sparkle is more than a word; Sparkle is a lifestyle. So, each morning I take a moment to give thanks for my personal and professional Life of Sparkle! Professionally, I am so privileged and honored that I can continue to make a living by working with Diamonds. From educating the industry about Quality Diamond Sparkle (throughout North America these days, but globally through the years) to also sharing my Sparkle expertise, as the on-air Diamond Expert on HSN ("Colors of Diamonds")…what a life of Sparkle!
Here's another view of the Big Quality Diamond that I am holding, which is unobstructed by the sparkle in my eyes (or the bags under my eyes, LOL)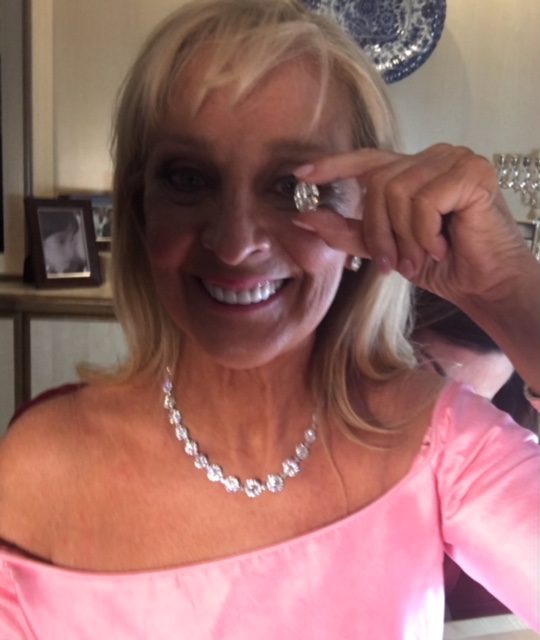 I Love Inspiring Everyone to Add a little Sparkle to their Life
Sharing Quality Diamonds, Destinations, Dining and Décor on this blog and social media, makes me Sparkle! Today, it's about Diamonds. I mean look at the Big Quality Diamond… BTW: that big quality diamond is courtesy of JB Starr, which is a jewelry manufacturer in NYC. Rafael Fouzailoff (his friends call him "Rafi" and the industry calls him a "visionary") founded JB Star in 1980. Rafi continues to create masterpieces with precision and passion – producing some of the highest quality jewelry in the world. Of course, it all starts with his amazing jewels…like the Diamond I am holding.
Sparkle + Meaning, Magic & Mystery
We all love the Sparkle of Diamonds. Yet, a Diamond's "Sparkle" is much more than a description of its intrinsic beauty. Here's a quick 30 second video that I made to remind us all about the Meaning, Magic & Mystery of Diamonds. The Big Quality Diamond RING that I am holding in the video, is courtesy of Molina Fine Jewelers in Phoenix, AZ . Alfredo Molina, (Chairman and Founder) is a connoisseur of the world's most magnificent gems with a reputation not only for owning rare and historical gemstones, but also for bespoke jewelry design, outstanding craftsmanship, and unique, unforgettable shopping experiences. He is personally available by appointment and has the attention of international circles of nobility and influence.
It's A Lifestyle Choice
Living a Life of Sparkle begins by choosing QUALITY . Then, it is about SEIZING OPPORTUNITIES; Life is too short to skip anything that can make us smile, laugh or Sparkle! So, from my POV, it's about saying YES to every Quality Opportunity. This means, saying yes to even opportunities that look a bit scary. For example, as a fairly recent widow, the idea of DATING…seemed daunting . BUT I SAID "YES" to the opportunity to take my "first-step-dates" on National Television – LOL Now, that's scary! So, if you're considering dating as a mature-adult or inclined to just watch a senior's attempt at dating, LOL here's an opportunity: Tune-in to Season 2 , Episode 12 of LOVE CONNECTION on FOX , with host Andy Cohen. That's where you can see my "first" dates – Yikes! BTW: The Beautiful Diamond Jewels I am wearing are courtesy of GUMUCHIAN, Jewelry By Women, For Women.