Valentine's Day is about a week away…so it's the perfect time for DINING and DIAMONDS!
A couple years ago, I blogged about the pairing of  Romance, Diamonds and Food … the  historical components of memorable proposals, famous love stories (or scandals) and celebrations of love.  Of course, the food must me unforgettable and the diamonds must be real to be worthy of forever – like true love (even if the romance is fleeting, LOL) 
This year, my inspiration is La Dolce Vita!  
What do you envision when you hear the words LA DOLCE VITA? Perhaps you think of Fillinni's famous movie that was set in Rome!  Maybe you immediately visualize Marcello Martroiani and the iconic scene in the Trevi Fountain (BTW it was shot in winter!) As for me, I think of Great Italian Food with MAHvelous views of the Ocean .  LA DOLCE VITA , at 400 Ocean Avenue in Belmar NJ is the place.
It's open all year with sensual fireplaces blazing during the winter months.  If you hurry, you can reserve a table for Valentine's Day (via Open Table or just call 732-749-3177).
 
La Dolce Vita is the place I chose to launch and  celebrate my new Colors of Diamonds Jewelry Collection. So, if you don't want to wait until my live HSN show on February 12th, here's a sneak peak at my favorite Diamonds and Dining selections….at La Dolce Vita:
Burrata Mozzarella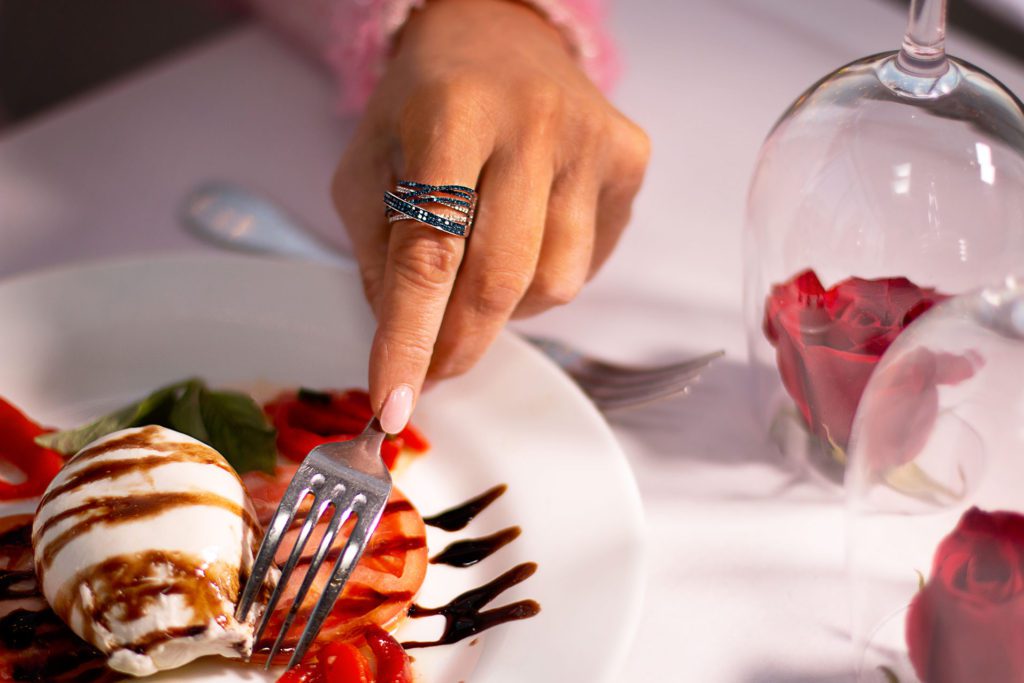 Whether you prefer your salad prior to your entrée or after, I recommend the La Dolce Vita burrata mozzarella! This salad of burrata with baby arugula, heirloom tomatoes, and roasted red peppers was drizzled with a balsamic glaze! The sparkle on my left hand's index finger is my new wrap ring with natural brilliant white diamonds and genuine blue diamonds… it has 5 bands of Diamond Sparkle!  BTW: La Dolce Vita's Burrata, also made me sparkle – it's so delicious!
Rack of Lamb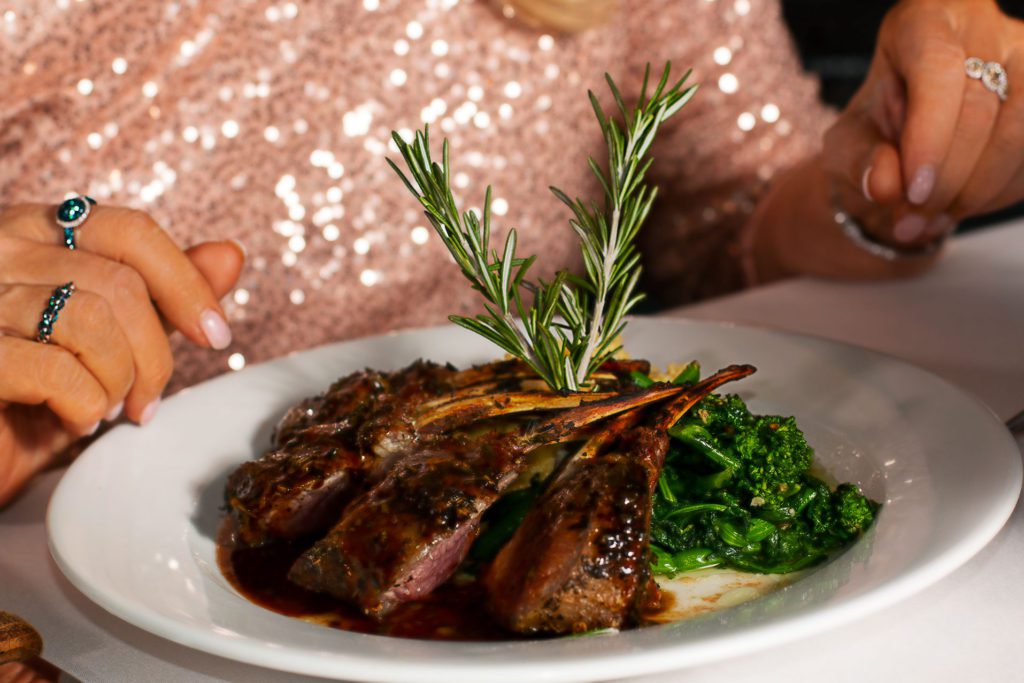 I am rarely  at a loss for words; but, the Rack of Lamb at La Dolce Vita is ….well, JUST TRY IT. Any adjective will just not do it justice! 
Something Sweet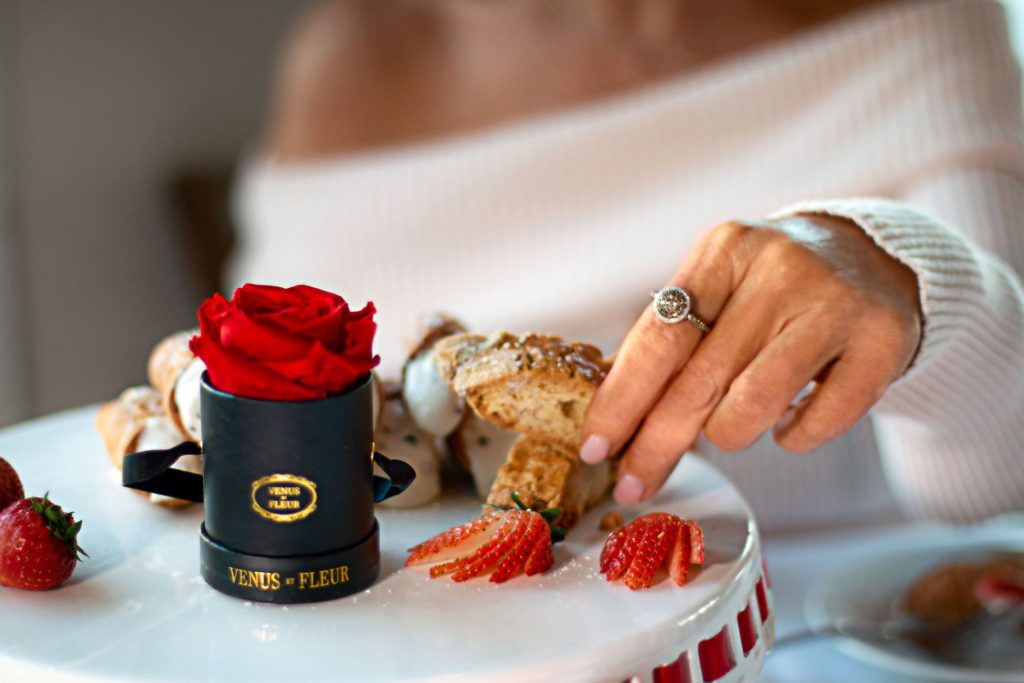 The classic Italian dessert, Tiramisu carries the meaning  "pick me up", "pull me up" or "cheer me up" ….and doesn't something sweet at the end of meal, do just that?  At La Dolce Vita, you can choose anything from Tiramisu to simply-sweet-strawberries and lots of sweets between, including cannoli or my favorite, BISCOTI. 
The Champagne Diamond ring that I am wearing (above) is going to be a big hit when I launch it on February 12th! Did you notice the brilliant white diamond halo surrounding the center cluster…and yes, there are champagne diamonds encrusted on the ring's shank, too.
  I kept that one for myself.
Sidebar: Most gifts are fleeting, but Diamonds are forever (and Real is Rare)! Nevertheless, I am sure you noticed the single rose in the picture above.  That's just one example of the many Venus Et Fleur arrangements that have captured my attention.  All of their roses are real…..and rare they are, because they can last up to a year!
Champagne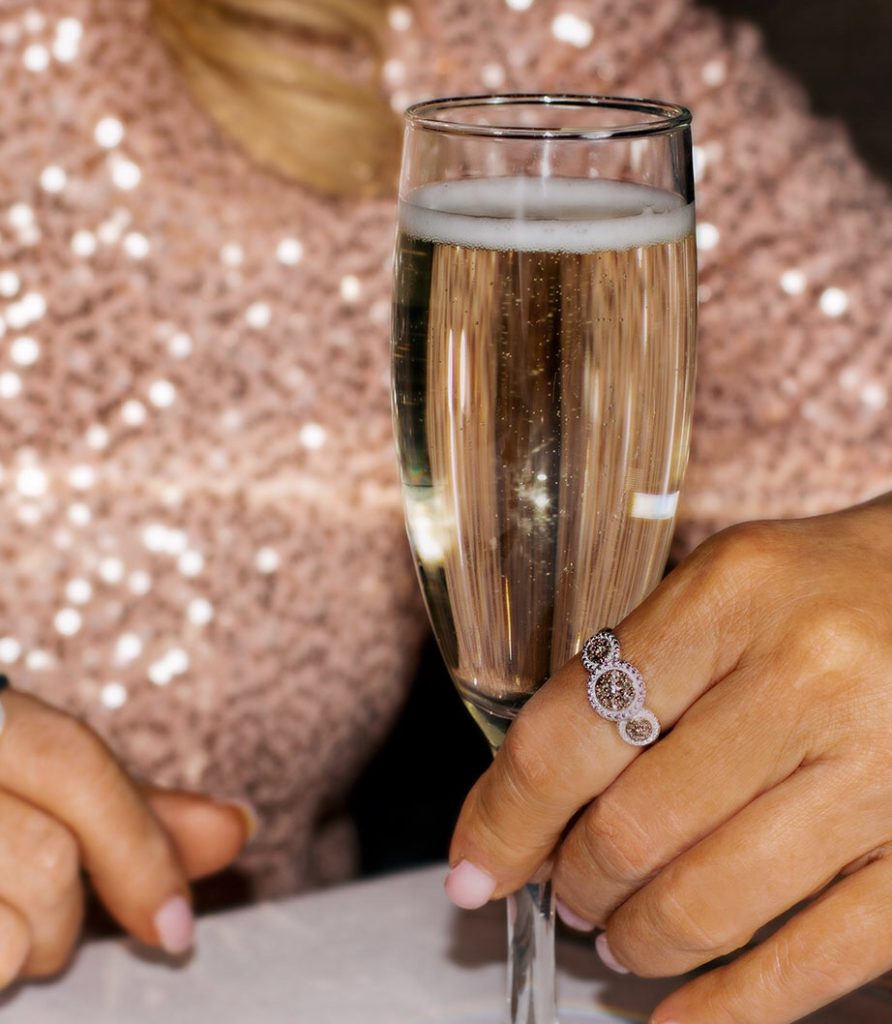 No Valentine's Day celebration (nor Galentine's Day party) is complete without Champagne!   I mean Sparkling Champagne Diamonds, of course!  The eye-catching Champagne Diamond on my finger is it my TRIFECTA RING, and I will share the story on February 12th.
Join me LIVE on HSN February 12th from 10am to NOON…
and let's shop together for Valentine's Day –  Colors of Diamonds.  
Hmmm….maybe I should rename the collection Colors of LOVE!
HAPPY VALENTINE'S DAY