Las Vegas Jewelry Week Starts . . . Now!
You already know about New York Fashion Week, Paris Fashion Week, and Milan Fashion Week, but do you know about Las Vegas Jewelry Week? Every year, during the week after Memorial Day, the jewelry industry converges on Las Vegas for the biggest jewelry event in North America – and one of the three biggest jewelry shows in the world. I'm packing my bags and finalizing my calendar for what will be a whirlwind of visiting jewelry designers, analyzing new trends and styles, and spending time catching up on all the latest news in the diamond industry! For the jewelry industry, this show is where we find the new styles, work with our vendors, find new business relationships, and get our education. And since the jewelry industry is such a small industry compared to most, we're a pretty tight bunch. So Las Vegas Jewelry Week is also the place we go to see all our wonderful friends that we've met over the years! For consumers, Las Vegas Jewelry Week sets the stage for what you will see in jewelry stores and jewelry departments for the rest of the year. If you have opinions about what types of jewelry you want to see in your jewelry stores, I want to hear them! The main events this week are the JCK Show at Mandalay Bay and the Couture Show at the Wynn, and I'll also be attending the Antique Jewelry and Watch Show at Paris. Stay tuned all week as I tweet you the news and the views of this fabulous jewelry event! If you're not following me on Twitter yet, it's time that you do! http://www.twitter.com/jewelryactivist!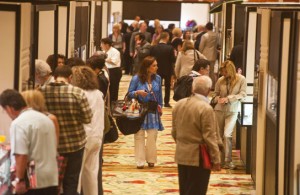 Tags: Couture Jewelry Show Las Vegas, Designer, Diamond Engagement Ring, Diamonds, Diane Warga-Arias, Engagement Ring, Estate, Fine Jewelry, JCK Las Vegas
Trackback from your site.