But This Heart Jewelry Takes Design to a Much Higher Level
Hearts are one of the most common shapes found in modern jewelry, and for good reason. Jewelry is the go-to gift for romance and special occasions! If you've become a bit tired of the typical heart motif, let me stir your heart with a few very fresh takes on this wonderful tradition!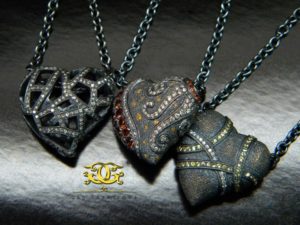 My favorite hearts this season are designed and hand-crafted by G&G Creations in Boston. The entire G&G line is beyond beautiful – all museum quality jewelry that feels good on and really draws attention! So it's no surprise that their new collection of hearts is sophisticated and of the highest quality.
Every piece they make is unique, just like the individual hearts to whom each piece will be gifted.
Or is Vintage Heart Jewelry More Your Style?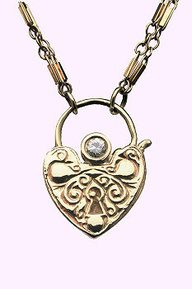 If the thing that makes your own heart go pitter-pat, you'll love what designer Julie Romanenko does with vintage heart lockets. She shops antique shops all over the world looking for only the most beautiful and unique lockets she can find. After she redesigns them to include new or handmade chains, gemstone elements, and other lovely touches, you have a locket that is both traditional and stylish. Like the hearts from G&G, every locket Julie creates is a one-of-a-kind, which is such a nice touch for any gift associated with romantic love.
Diamond Heart Jewelry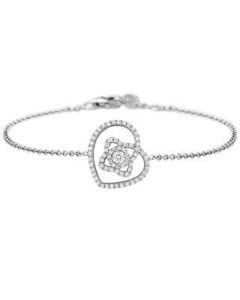 Of course, diamonds are still a girl's best friend. Maybe the heart for you is something dainty that you can wear on your sleeve, like this sweet little diamond heart bracelet from De Beers.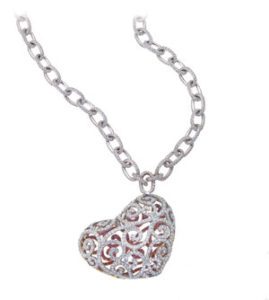 Or perhaps this heart will capture yours  …with over 17carats of diamonds on the outside and almost 3carats of pink sapphires on the inside, there is nothing tiny about this breathtaking pendant. The  3inch, three dimensional heart is suspended from a diamond pave chain and is only a heartbeat away at www.molinafinejewelers.com
  Heart to Heart…
Remember that fine jewelry hearts such as these will never go out of style – and may become some of your favorite heirlooms.  So, In the spirit of Valentine's Day:
Tweet Sweet
Blow Kisses
Spread some Kindness
Roll-out the Red Carpet for a Friend
Form a Strategic Partnership
…and Have a Heart!