Sotheby's April Auction of Magnificent Jewels – a 74.79 carat Pear-shaped Diamond!
In most cases, if one wants to see the world's most magnificent diamonds at auction, one has to travel to Europe or Asia to attend (as I did in October '12 when I traveled to Geneva for the Archduke Joseph Diamond auction
http://jewelryactivist.com/archduke-joseph-diamond-auction/
). But on April 17th, Sotheby's will offer the most important white diamond ever to appear at auction in the Americas. This 74.79 carat pear-shaped diamond – one of very few pear-shaped diamonds over 70 carats – is a beautiful D color.  Sotheby's is predicting a sale of $9 – $12 million!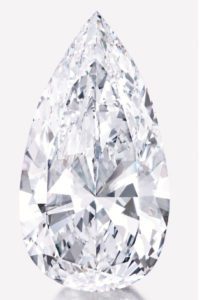 How big is a 75 carat diamond? Imagine holding a large egg in your hand. Then imagine being the Diamond Polisher or Master Diamond Cutter who is responsible for removing layer after layer of the rough stone to create a beautifully faceted pear! I'm just grateful that the world is full of such beautiful things. I'll keep you posted on what happens in New York!

Tags: auction, Christie's, Diamonds, Diane Warga-Arias, Estate, Sotheby, White Diamonds

Trackback from your site.