More is Merrier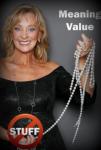 'Tis the season for giving gifts of meaning and lasting value, because we don't need any more meaningless things to clutter our life. So, do we need more jewelry?  Well, quality fine jewelry not only communicates the strongest emotions, it retains or increases in value….so more is merrier! First, of course, every woman needs a basic jewelry wardrobe, which has the graceful versatility to go from morning errands to important meetings and elegant evenings.  BTW: for those of you who need some help with your holiday shopping list, I identify the key jewelry items for a basic jewelry wardrobe… in this previous article "Giving Gifts of Meaning"  http://jewelryactivist.com/2012/12/ Oh, how I love the season of Christmas  (& Hankkaha too),  because every day surrounding the special days can mean a gathering of friends, family, colleagues or strangers in need of good cheer….and most everyone agrees (at least during this time of year)  that the more the merrier! Well, for those who are thinking of making one of those holiday moments even more memorable with a gift of quality jewelry, take note. If you are thinking of giving a special gift to a woman who loves jewelry, but who already has an elegant jewelry wardrobe, don't despair. Certainly, you don't need to settle for something with less meaning or less lasting value…because women who love and appreciate fine jewelry also believe that more is merrier. 

I do, however, have 3 rules that ensure  lasting merriment

:
Rule #1 Consider Pearls
As a young girl, I would watch intently whenever my Mom slowly placed her Pearl Solitaire Necklace around her neck….as the pearl would gently position itself  into the hollow at the base of her throat.  She didn't wear it every day. Her life's journey of working and studying, while also caring for her family, was not an easy one. But, oh, how I loved to watch how her expression would change whenever she would put it on her neck. She is not nearly as demonstrative or emotional as I am, but her warm gentle smile was always present when she wore that single pearl pendant. I learned (years later) that it was her older brother who gave her the pearl, when he returned from Japan in 1944.  That pearl still has an amazing luster, which speaks to how well she cared for it. My Mom treasured and cared for us with even more attention and determination. She always believed that education and life-long learning was the key to a better life…for all.  So, she  inspired us all to learn more (as we witnessed her struggle to first earn a GED and then a BA; later in her life, she even earned a Masters degree).  She also wanted us to have more success, more love, and more of everything!  So, every time I wear a strand of pearls (or lots of Pearls, because I believe more is merrier) I smile and think of my Mom and her perspective on life…. her pearls of wisdom.
Life is merrier with special memories… make some more this holiday!
Stay tuned for Rule # 2  Next Week
Tags: Diane Warga-Arias, Holiday Gifts, Pearls, quality diamonds, Value
Trackback from your site.