LOVE IS IN THE AIR
February is the one month that everyone thinks about Love. OK, mostly women think about it;  and we start thinking about it at a very young age, LOL.   Surely, I am not the only woman who remembers being a little girl who carefully signed a large pile of Valentine's Day cards ….and then carefully carried them to school for the boys and girls in my class.   Today, I love that Galentine's Day has become almost a big as Valentine's Day!  Sidebar for those that may not know about it: Galentine's Day is the day (February 13th) for girlfriends, aka, "Gals"… to get together (without boyfriends, husbands etc.) to celebrate our loving bonds and the power of girlfriends!  Whether you celebrate Galentine's Day or Valentine's Day or both , let the celebrations begin! It's February and LOVE IS IN THE AIR !
Some Say it with Flowers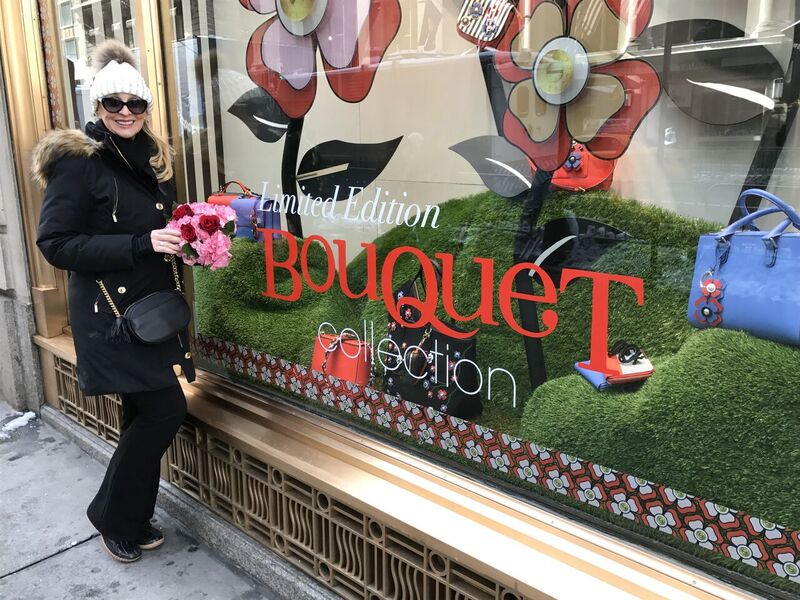 For thousands of years, flowers carried symbolic meanings in many cultures.  I do love flowers and I have been blessed to have received dozens and dozens of Red Roses from my husband over the years. Roses are probably the only flower that I prefer in Red.  I love white orchids and white peonies, but I love hydrangeas in all its colors (except red, LOL)   When when it comes buying flowers for myself, I usually choose different shades of PINK.  My office and night stand almost always have a small vase of pink flowers. But…it's the Color Pink that holds meaning for me. Oh, the feminine power of a pink scarf, a pink power suit, a bouquet of pink flowers or  a pink purse (like my new one from Michael Kors) ! Even better…check out the Pink Diamond Ring I am wearing.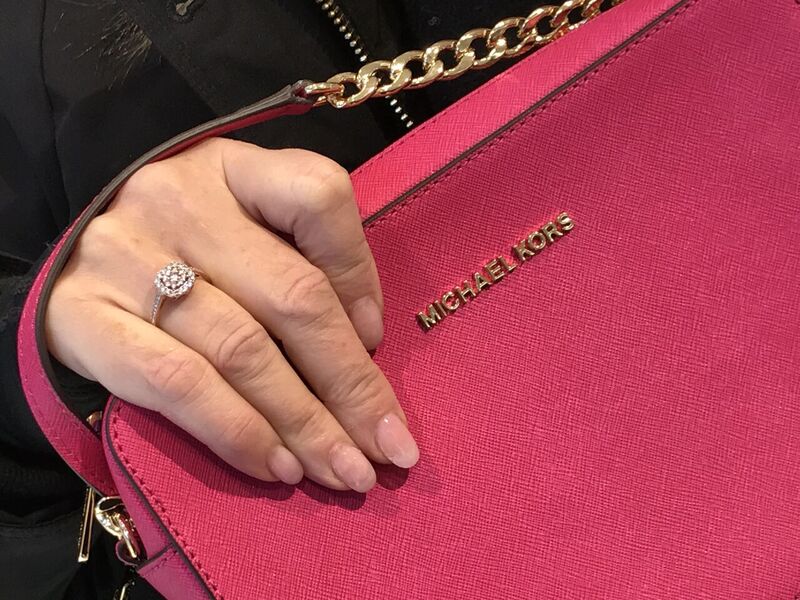 Live, Love and Sparkle
On January 31st, I was excited to launch a new HSN Natural Color Diamond Jewelry Collection, set in 14 Karat Gold!  The ring I am wearing features a cluster of Natural Pink Diamonds, which is surrounded by a halo of white diamonds and set in 14 Karat ROSE Gold. There is also a matching pair of earrings and  a pendant.

                                           Since I am doing a bit of reminiscing in this post, I am sure some of you remember the days when a woman would NEVER buy her own Diamond Jewelry. Unfortunately, I am sad to say that there is a quite a bit of data/research that reports many women continue to be uncomfortable with even the thought of buying their own diamonds. It's true:  we love the Sparkle of Diamonds, we love to sing about Diamonds, we love the mystery surrounding Diamonds, we love to wear Diamonds….and still some of us believe only a man should buy us Diamonds! YIKES!   Well, Love is in the air and whether you are celebrating Galentine's Day or Valentine's Day or both, many of you agree with me:
Women can now buy our own Diamond Jewelry to celebrate …..our Life of Love or our Love of Life
If you visit HSN.com and search  "Colors of Diamonds" you will see beautiful diamond jewelry that is worthy of your story …Diamond Jewelry that is worthy to hold your story for generations!

Tags: HSN, HSN Colors of Diamonds, HSN Diamonds, Michael Kors, Natual Diamonds, Natural Color Diamonds, NCDIA, New York City, Valentine's Day

Trackback from your site.