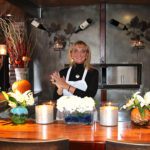 Cooking-up Sparkle Scottsdale, AZ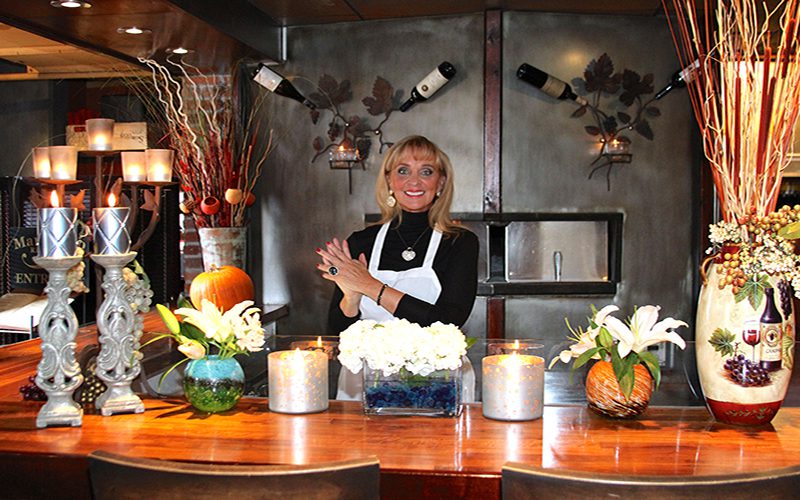 I think it is common knowledge that Romance, Diamonds AND Food go together!  Famous love stories and memorable wedding proposals seem to always include romantic fires being kindled over dinners.  Also, REAL WOMEN EAT… and great food sparkles my spirit, as well as fuels my travels.  Searching for the next great chef, however, is better left to food critics and food bloggers.  As for me:  "I'm a woman of simple tastes; I'm always satisfied with the best".   Yes, I am paraphrasing from the over-quoted Oscar Wilde (he said "man" instead of "woman"), but true it is!  I am fortunate to have experienced the signature plates of great luminaries like Joel Robuchon, Thomas Keller, Danielle Boulud, Alain Ducasse and Jose Andres.  Oh, the luminary luxuries of fine dining experiences!  So, my Scottsdale travel itinerary included a beautiful afternoon with the Italian cuisine of  the Award Winning Italian Chef Marcellino Version at MARCELLINO RISTORANTE.  For foodies, I listed all of his luminary experiences and awards at the end of this blog.  For everyone else, here is some info on my Sparkling Jewelry from HYDE PARK JEWELERS …
My Diamond Heart Locket was featured in my last blog  "INSIDE Out .." . and here are close-ups of the

6+carat Black Diamond Bracelet and the  Ippolita Hematite & Diamond Ring

Celebrity Chef 

I am not a chef (although I love cooking and hosting sparkling dinner parties when I am home). Nor am I a celebrity (although I love being a guest host & Diamond Expert on the Home Shopping Channel/HSN)  So, I was so honored and excited that Chef Marcellino invited me to join him behind his "Chef's Island".   His "island" is a u-shaped gathering of comfortable seats where guests  (during special events with celebrity chefs) can watch the maestro work his magic with his wood fired oven.
Grand Padana Consorzio
 I just had to try my hand (and taste, of course) the Grand Padana Consortia Cheese from the Northern region of Italy. Marcellino attacked the full wheel… that was a massive 90 pounds!  I chipped away at the wedge wearing a one-of-a-kind Diamond & Tourmaline Bracelet crafted to compete in the jewelry industry's prestigious Spectrum Awards. The brilliant ring on my finger showcases 7.80 carats of a natural lemony (light yellow) fancy color diamond,… oh, the Colors of Diamonds!
A Savoring Experience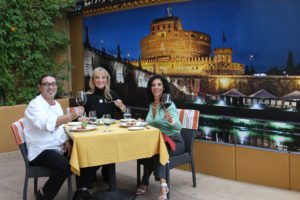 It was a wonderful afternoon with Chef Marcellino…..that concluded with savoring a great meal with his wife,  Sima.  So, off with my apron and on with a change of earrings to align with the Sparkling outdoor patio! I love the 18K Gold & Diamond earrings I was wearing inside behind the Chef's Island, but the whimsical leaf inspired earrings were beckoning to be worn outside in the twinkling patio.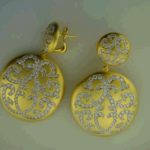 FYI: the mural was created from a photo that Chef Marcellino took himself during a visit to Italy…. where it all began!
If you stop by for dinner (there is live music every Saturday and Thursday Jazz Nights) ….say hello to Sima and tell her I sent you. Marcellino will likely be busy in the kitchen creating Italian masterpieces!
Foodie Footnotes:
Age 21: personal chef  to renowned scientist & socialite Adriano Bussati Traverso
Before US: cooking experiences on the island of Porous, Greece; opened restaurants in Calabria and Abruzzo, as well as trendy bistros in Rome
NYC 1996: opened restaurant and earned coveted  "Award of Excellence"; New York Times
James Beard Foundation:  Achieved "Honorary Recognition" for his outstanding contributions
Today: Marcellino Ristorante in Old Town Scottsdale serves internationally established clientele …and me.
 Jewelry Footnotes: 
Be sure to visit Hyde Park Jewelers.

In Scottsdale, ask for Nancy or Tom and tell them I sent you.
Tags: COLORS OF DIAMONDS, Hyde Park Jewelers, Marcellino Ristorante, Michael Pollack, Scottsdale AZ
Trackback from your site.