This Idea Holds Water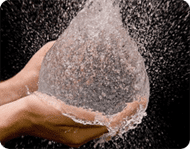 Changing the World with Jewelry Activism
Quality Jewelry enhances our lives for sure. Whether we receive jewelry for a Birthday, Anniversary or "Just Because" …fine jewelry makes our important occasions more memorable.  Gifted fine jewelry is always an intimate expression of love and who doesn't know that a Diamond is the ultimate expression of love!  Jewelry we purchase for ourselves also enhances our lives.  Unlike other accessories, we don't just feel more "put together" with fine jewelry; we feel more confident and more beautiful, because quality jewelry and natural gemstones become part of us versus part of our ensemble. WHAT ABOUT THE SOURCE OF OUR JEWELRY? Following one of my recent seminars, I received a "thank-you-gift" of pink beads that perfectly matched a designer's pink jacket that I was wearing. BEADS, REALLY?  Most people know that I am about natural gemstones, diamonds and only precious metals—the "noble metals".  Well, I graciously accepted the gift and simultaneously learned about a great initiative: "Bead for Life".   The beads are hand-made in Uganda, Africa with recycled paper ….and have been featured on NBC Nightly News, O Magazine, Vanity Fair and more.  In 2004, when the founders launched BeadforLife, they had no idea of how their endeavor would expand to help so many! MJ Christensen Diamonds (Jewelers since 1939; located in Las Vegas) is the jeweler that bestowed upon me the Beads for Life …but more important, they host an Annual Runway for Life Event at both of their jewelry locations.  BRAVO, MJ Christensen! Click this link to see one of their events:  http://www.youtube.com/watch?v=3klizEpUb4w There are other independent jewelers that are "doing good" for their communities and beyond….find out who they are in your area.   If you are around Phoenix, Arizona, you should stop-in and say hi to Molina Fine Jewelers who operates with a mission: CHANGING THE WORLD ONE JEWEL AT A TIME™.  Over the past 20 years, along with the time and talents of CEO, Alfredo J. Molina, Molina Fine Jewelers has proudly donated over $30 Million in support of local and national charitable organizations…in addition to hosting hundreds of events that motivate others to give. Click to see a video of just one of Molina's dedicated fundraising initiatives:  http://www.youtube.com/watch?v=eYBjXkvlnWo No matter where you shop, I want you to know that buying DIAMONDS is good for many…and provides critical revenue for some countries.   Few people know that Diamond revenues enable every child in Botswana to receive free education up to the age of 13. An estimated 5 million people have access to appropriate healthcare globally thanks to revenues from diamonds.  Still more can be done and here are my favorite organizations that are involved: The Diamond Empowerment Fund (DEF) is an international non- profit organization supporting education initiatives in diamond producing countries.  Website:  http://www.diamondempowerment.org The Diamond Development Initiative (DDI

)

works to ensure that Diamonds become an engine for development in countries where artisanal diamond-diggers labor in poverty, outside the formal economy.  Website:  http://www.ddiglobal.org/

Tags: Bead for Life, Diamond Development Initiative, Diamond Empowerment Fund, Diamonds, Fine Jewelry, MJ Christensen Diamond Center, Molina Fine Jewelers, Quality, Social Activism

Trackback from your site.