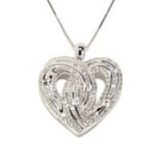 Just as every woman owns/wants at least one little black dress  or several black dresses (e.g. mine are in several sizes), every woman deserves, wants or owns a Diamond.  Actually, it is a Diamond Wardrobe that we all want and need. Unfortunately, most women think they need to receive their first Diamond  or all Diamonds as Gifts, not via Self-Purchase.  Sidebar: a Diamond received as a Gift of Love, still takes my breath away!  BUT…a woman's Diamond Journey should not be dependent on the tradition of a Diamond Engagement Ring.  A Diamond can be treasured as a Gift or Self-Purchase… both are possible and they are not mutually exclusive.
Why Not from Mom or Dad…
When I supported the DeBeers Group for ten years, I had access to valuable consumer research…showing the motivations and buying habits of consumers.  Oh, was it disturbing and sad to see that only 20% of women were comfortable buying diamond jewelry for themselves!  Well, the JOY OF WEARING a Diamond need not depend on a man.  Sidebar#2:  remember, a Diamond received as a Gift of Love is still desirable and a magical Diamond Moment!  Why doesn't a woman's Diamond Journey  begin, however,  when she receives her first diamond from her Mom or Dad? Why not from an her aunt or uncle?   A woman can also start her Diamond Journey!